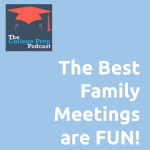 The word "meeting" sounds so boring, so why would anyone, parent or child, want to do one?!
This week on the podcast, Julie Smith debunks the myth that meetings aren't fun, and provides a number of tips for how — in only 10 minutes a week! — families can save time, eliminate scheduling headaches, and create more connection and fun.
Among the tips she shares:
why family meetings are important for kids and parents alike
alternative words for "meeting" that inspire all family members to take part
how long (or short!) meetings need to be in order to make a difference
how to talk about hard topics without shaming kids
how to use this time to make sure everyone's calendars are up to date
an inspiring story of a student in crisis who was transformed by her family's new meeting
and much more.
Julie's case for the anti-boring family meeting was so persuasive that co-host Megan Dorsey, who came into the discussion a little skeptical, decided that she might implement her own unique version of the family "check in" in her household.
Here are some resources that might support families in helping parents and kid be productive and on the same page:
Schedule Once (used by a family with whom Julie works to help kids and parents sign up for time on each other's calendars)
Google Calendar (a great way to make sure that teens and parents never forget to tell each other about doctors appointments, soccer games, and more)
XMind (a great mindmapping tool for mapping out homework assignments, family projects, meeting agendas, and more)
Julie Smith is an adolescent and family counselor who partners with parents and community organizations to navigate the unpredictable world of tweens and teens. She specializes in developing strategies that actually work to support adolescents and families before, during and after a crisis. Find out more at juliesmith.com, or connect with Julie on Facebook and twitter. 
Podcast: Play in new window | Download
Subscribe: Apple Podcasts | Android | RSS