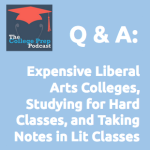 We love questions from our listeners, and today we got some great ones!
The Cost of a Liberal Arts Education. Becky, a mother who also homeschools her kids, asks: "Are elite Liberal Art colleges worth the price when no college can guarantee your goal or success?"
Studying for Hard College Classes. Maya wants to know: "I'm in college now and I'd be interested in learning about different test-taking and studying techniques that adapt to the greater expectations and sometimes more difficult courses in college. Is there much of a difference?"
Note-Taking in Lit Classes. From a 10th grader: "How do you suggest I take notes in English when literature is being discussed?"
Check out this freewheeling discussion as Megan and Gretchen explore all the nooks and crannies of these questions.
Podcast: Play in new window | Download
Subscribe: RSS