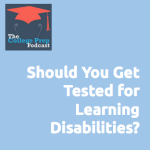 Getting tested for learning disabilities is not always the right choice for students who are struggling in school.
Dr. Liz Angoff (drlizangoff.com), our guest expert for this episode, explains how assessment works, how to choose a good educational psychologist, and what results to expect from the testing process.
Topics she covers include:
What are the types of educational assessments that families choose from? How can you know which type of testing is right for you?
Why do families come for for testing in the first place? What should they know at the end of an assessment?
When is testing beneficial? When is it not beneficial?
What is the difference between an in-school assessment and a private assessment?
How much does testing cost?
and more!
She recommends that families play around inside the Misunderstood Minds website, which provides activities for parents, siblings, and educators to experience what it's like to have a learning disability. Families might also want to check out LD Online for easily digestible information about what learning disabilities are and how to work with them.
Dr. Liz is an Educational Psychologist in private practice in Berkeley and Orinda.  She has worked for the past 14 years in the public schools system as a classroom teacher, family advocate, and psychologist supporting students in both General and Special Education.  Her current focus is assessment and consultation services to help students and their families develop a deep understanding of their strengths and struggles, as well as concrete ways to gain support and advocacy to reach their full potential.  Visit her website for more information, or to schedule a consultation.
Podcast: Play in new window | Download
Subscribe: RSS