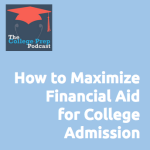 Ready…set…time to apply for financial aid! Just when you thought the college admission search was over! January is the time to begin applying for financial aid, and the earlier you do it, the better your chances of getting a good package.
During this episode, Megan walks listeners through the ins and outs of this phase of the college admission process, including:
Different types of financial aid available
The steps to take to fill out the FAFSA, from filling
Helpful hints so that families don't make key mistakes that might cost them money. (For example, do not wait to apply until you calculate your 2014 taxes! Tune in to hear Megan's explanation why.)
Steps that families of younger students can take to get their finances in order before college (For example, make sure that any of the parent's retirement money is in official retirement accounts so that it doesn't count against you on the FAFSA).
How drug convictions and divorce can effect financial aid awards, and much more!
Megan also recommends that families check out the following resources:
A FAFSA Forecasting Calculator, to predict aid if you aren't ready to apply for college yet but would like to start planning for how much to save.
Although most people apply for the FAFSA online, it can be helpful to print out a PDF of the form so that you can make sure you understand it in detail before you sit down to fill it out. Download the PDF here.
Please note: the acronym EFC stands for Expected Family Contribution, and stands for the amount of money that the schools will expect families to contribute towards the college tuition.
For detailed information about filling out the FAFSA, visit www.studentaid.ed.gov.
Podcast: Play in new window | Download
Subscribe: Apple Podcasts | RSS