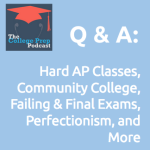 We love it when our listeners write in! Here are the questions we take on this time (including some musing at the top of the show about perfection paralysis in students):
What to Do When a Class Becomes Too Hard. Thank you for all your valuable information. I am hoping you can guide me with how to best guide my son with his struggles with his AP Physics class. He has taken two tests this year and currently has a c-. We are not sure if he should continue with the class or drop it and take a study hall or try to get into an easier class. He is taking six classes now: Ap psych, English, Pre calculus, History, Spanish 3, and Ap physics. Going into his junior year, he has a 3.5. Junior year seems to be a bit tougher so he has a b+ and a- in most classes except for AP physics. So…question is: Drop the AP physics and take study hall with five classes? Or drop ap physics and take an elective? Or stick with AP physics and try to get a C in the class?
Failing and Final Exams. I think I'm failing my college class. Do I need to take the final exam?
What to Do When You Don't Get Into the Colleges You Want. My daughter really wants to go to a top university in California and applied at Pepperdine, Berkley, UCLA and USC. She has only heard back from USC and Pepperdine and unfortunately she was not accepted. She has a 3.4 GPA and she really wants to go to school in California but since she waited to hear back from the above school and never applied anywhere here in Texas she has missed the deadline for all the good universities. She is thinking of applying at Wharton Junior College, taking her basics, and then reapplying at the above schools. I just wanted some input from you: do you think that with her GPA and SAT score that going to WCJC is a waste of time or should she just apply at any 4 year university in Texas that is willing to take her? She is really determine to go to California and I am paying for her schooling either way; I just want the best for her.
Podcast: Play in new window | Download
Subscribe: Apple Podcasts | RSS