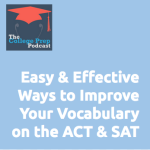 One of the single greatest predictors of professional success is an extensive vocabulary! On the SAT vocabulary is 50% of the reading score. Clearly in both academia and business, knowing your vocab is crucial.
During today's podcast, Megan presents the surprising results of a new study and then muses with Gretchen about why vocabulary is such an important skill for school and in life.
They share stories about clients who have struggled with vocabulary acquisition, and then share some tips and techniques for building strong vocab. These include:
reading books with college-ready vocabulary (not just books about the zombie apocalypse)
orienting family life and dinner conversations around fun vocab acquisition, including having parents practice the vocab too
using flashcards in the right way so you don't bore your brain (check out Gretchen's short video about how to do this)
applications like Quizlet that can be used on mobile devices
making audio files
and more.
Megan also provides a fabulous program called My Vocab Success Coach, which is only $10/ month and provides:
Weekly updates with word lists and easy-to-understand definitions.
Audio recordings for those who learn by listening.
Audio quizzes to measure progress.
Daily activities and a study calendar.
Proven study strategies.
All delivered to you in a weekly email.  No having to remember to login or download.
Only $10 per month.  No contracts.  Cancel anytime.
Unsolicited note from Gretchen: My Vocab Success Coach program is totally, utterly worth it!! I totally recommend trying it out as a family. After all, if parent's can improve their success at work at the same time that kids are raising their SAT/ACT scores, that's a steal!
Podcast: Play in new window | Download
Subscribe: Apple Podcasts | RSS