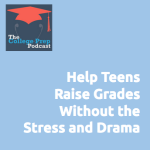 Gretchen has published a new e-book: The Parent's Handbook to Helping Your Teen Raise Their Grades Without All the Stress and Drama.
During today's episode Megan quizzes Gretchen about what's in the book.
A highlight of the conversation includes an overview of the 6 types of students that Gretchen sees in her academic life coaching practice. Do any of these sound like you or your teen?
The Stressed Out Perfectionist,
The Fade Away Student,
The Brilliant-but-Bored Student,
The "Meh" Student,
The Disorganized Student, and
The Non-Academic Artist/Athlete
Tune in to find out which student you (or your teen!) is , and then to hear Gretchen's thoughts about how to help them raise their grades without all the stress and drama. If you'd like to download and read the e-book, visit www.GretchenWegner.com.
Podcast: Play in new window | Download
Subscribe: Apple Podcasts | Android | RSS