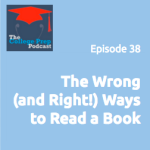 Research shows that depth reading is important for the brain; it's important, too, for the SAT.
But practically speaking, students also have to learn how to skim, so that they have time to read everything they're assigned in college and beyond.  
What should (and shouldn't) students be practicing when they read to be college ready?
Gretchen and Megan discuss a number of tips including:
how to use audio books to support reading
the most important skill in learning how to skim
how to get the overall picture of what you are reading
the importance of thinking about what the learning objective is from the reading assignment
the differences between reading a textbook (with lots of headings and subheadings) and a nonfiction book with no headings at all
and more!
For more information about Gretchen's Anti-Boring Approach to Powerful studying program (which teaches these skills and more in more detail), click here.
Podcast: Play in new window | Download
Subscribe: Apple Podcasts | Android | RSS