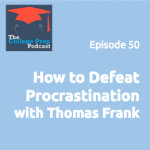 Is it really possible to defeat procrastination in three simple steps?
College Info Geek's Thomas Frank has become an expert in time management and study tips in the last five years as he's transitioned from being a college student into the world of entrepreneurship. 
Listen in to our freewheeling conversation as he shares juicy time management tidbits including:
how to get motivated by leveraging (1) planning, (2) habit building, and (3) grit to get yourself to follow through on anything

a morning routine that ensures you'll be productive all day
an impressive list of productivity tools including HabitRPG, ToDoist, Beeminder, Anki, Toggle and more
how to study anything well by (1) knowing what you want to learn, (2) defining specific steps for how you will learn it, (3) practicing spaced repetition, (4) committing to deep learning, and (5) practicing active recall,
a step-by-step outline for how he plans to apply these steps to learning Japanese in 10 days, and finally
why taking 60+ cold showers (!) may just be the missing link in developing grit and motivation to achieve anything.
Enjoy our discussion, and then go download Thomas's book 10 Steps to Earning Awesome Grades (While Studying Less)!
Thomas Frank is the founder of College Info Geek, a YouTube channel, blog, and podcast dedicated to helping students become more effective. He's also the author of the book 10 Steps to Earning Awesome Grades (While Studying Less). Having started writing as a freshman, Thomas brings both in-the-trenches experience as a student and years of research on learning and productivity to his content.
Podcast: Play in new window | Download
Subscribe: Apple Podcasts | RSS