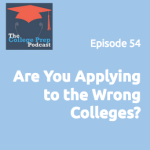 Although fit is an important criteria in choosing a college, there are additional factors that are more important:
Funding — Whether the colleges you are applying to are financially viable for your family, and
Recruitment Feasibility — Whether the schools you are applying to actually need and want students with your specific talent.
Tune in to hear Megan break down how to use these factors to guide your college search, so that you don't make the mistakes that many families do — applying to colleges that are a good fit for your student, but which don't give you enough financial aid to actually attend.
During this episode, Megan mentions a special scholarship program at Houston Baptist University, that is an example of the types of scholarships that might make certain schools more affordable.
Megan also announces a new, inexpensive course that she is offering to walk families through the college search process. Check out her website for more information about this course.
Podcast: Play in new window | Download
Subscribe: Apple Podcasts | RSS