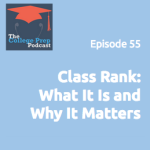 Most high schools create a list of student ranked from highest to lowest GPA — a student's "class rank".
This helps colleges know how a student is doing compared to their peers, but it doesn't always give colleges a clear picture of a student's academic skills compared to students from around the country.
Tune in to find out why this ranking does (and doesn't!) matter in your college search.
Podcast: Play in new window | Download
Subscribe: Apple Podcasts | RSS