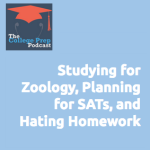 Questions, questions, we love questions!
On this Q&A episode, Megan and Gretchen tackle questions about how to study for a hard zoology class, plan for the SATs, and what to do when you hate to do homework.
Here are the questions that parents and students submitted:
I'm a college sophomore and I'm getting a D in Zoology. I really like the class but I just can't study well and I'm failing all my tests. I'm worried that majoring in biology is not for me because I'm having so much trouble, but I really love bio and don't want to give it up. To be honest, I'm not doing most of my readings because the textbook is so dry and boring, but I do like learning the information. What should I do?
How do we plan for the SAT, ACT, and AP exams? What are AP exams? Is that only for kids in AP classes? Our daughter will be taking pre-AP classes as a freshman next year and we want to plan ahead.
My son is a bright, curious high school sophomore, but he hates homework. He finds it time consuming but ultimately useless. He's distractable, and probably deserves an ADD diagnosis, and has such a hard time focusing during his homework time. He puts it off until after dinner because he hates it so much, but then it takes much more time than it should. He makes As on tests with minimal studying, and because he's great at using quizlet. What can we do?
Podcast: Play in new window | Download
Subscribe: Apple Podcasts | Android | RSS