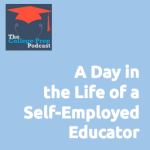 Are you a teacher thinking about starting your own service? Or a parent who works with one or more freelance educators, like college consultants, tutors or academic life coaches?
Megan and Gretchen lay out what to expect about working as, or with, a self employed educator. Each of them describe:
what their typical daily schedule is like
how many hours they each work during the week
the biggest differences between their former lives as teachers and their lives as entrepreneurs
how they set boundaries and deal with communicating with their clients
and more!
This episode will be especially relevant if you're wondering whether it makes sense to ease out of teaching, OR if you're a parent wanting to get the best experience from working with a self employed educator.
Podcast: Play in new window | Download
Subscribe: Apple Podcasts | Android | RSS