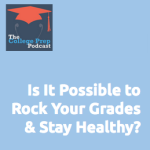 So many students sacrifice their health for good grades, but today's guest Clarissa Rodriguez says this isn't necessary!
After teetering on the edge of an eating disorder AND being told by her biology instructor that she doesn't have what it takes, college student Clarissa Rodriguez turned her life around. Now she has graduated with great grades from nursing school, and teaches college-age young women how to stay healthy in school while rocking her grades. 
During today's guest interview, Gretchen and Clarissa talk about:
the #1 study tip that turned Clarissa from a failing student to getting top grades in nursing school
the biggest time management secret that helped Clarissa learn to manage her busy schedule with plenty of "me" time, too
a simple trick for staying healthy when eating cafeteria food on campus,
the simple workout that will keep you strong,
and more!
During our interview, Clarissa mentioned a number of free resources to help college students. Check out her free cramsheets to all things healthy in college, her blog (which Gretchen goes to for resources, too), videos about how to budget and live healthy as a college student, and free workouts for students that are easy to do in the gym or dorm room.
Clarissa Rodriguez is a busy nurse, blogger, and health advocate for college-age women who want to rock their studies while maintaining balance in their lives. You can find her over at GirlBudgetLife.com.
Podcast: Play in new window | Download
Subscribe: Apple Podcasts | Android | RSS