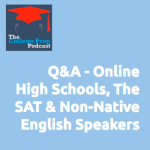 Questions! Questions! We answer questions!
Now that a new school year is upon us, The College Prep Podcast has been deluged with questions from our listeners, many of whom are from around the world.
Here are the questions we tackle on today's episode:
Are online high school diplomas viewed the same as regular high school diplomas? How do colleges react to these types of diplomas? is there a ranking of which ones are the best? (We are thinking of switching to homeschooling and don't want to ruin our college options.)
How do you find balance between studying and doing homework?
One of my friends told me that doing the SAT in October will make scholarships available to us.  I was planning to do the SAT in November. My friend says only the students who do the SAT in October will get the scholarship, not the others. Is that so?
Since I am a non-native speaker, this means I will have difficulty with reading and writing portion of the SAT. For example, How to find the main point, tone ,mood and inferences. I am starting my 12th grade (I don't know what you say that in United States). I thought to take SAT in Oct but I don't think I have the necessary skills so now I have delayed it ( I don't now till when) So can you guide me how to develop my basics in English especially English passages and what additional resources to use?
Podcast: Play in new window | Download
Subscribe: Apple Podcasts | RSS