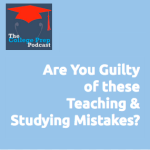 Students and teachers make a number of mistakes when it comes to giving, studying for, and grading tests.
In preparation for her upcoming webinar How to Be 100% Ready for Every Test, Gretchen walks Megan through what gets in the way of optimal testing experiences in schools.
Here are some of the topics that Gretchen discusses:
The right and wrong ways to provide (and use) study guides
How teachers can grade, and return, tests in a timely fashion, and how students can use their returned tests to troubleshoot their study skills
The ways in which teachers collect assignments that get in the way of studying
The importance of referring to old assignments to study for tests
The tendency students have of throwing away old work
Mindlessness and passivity when doing work
And more!
To find out Gretchen's 3-step study process that is (almost always) guaranteed to help you pass your test with flying colors, go to www.gretchenwegner.com.
If it is before September 27, 2015, sign up for the How to Be 100% Ready for Every Test. If it is after this date, click on the Free Stuff link to find out how to gain access to the recording.
Podcast: Play in new window | Download
Subscribe: Apple Podcasts | RSS