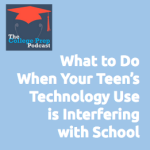 One of parents' biggest concerns and confusion about raising kids in today's world is how to help them manage their technology use.
Guest expert Jason Brand breaks down how to talk to kids about how they're using technology and what kinds of limits are most appropriate.
In a wide-ranging discussion with Megan and Gretchen, Jason discusses:
the ways in which technology use is a family issue, not just a student issue
what is so "sticky" about different kinds of video games
less-talked about reasons why some teenagers spend so much time on video games
the healthy side of technology use as well as the destructive
how to help kids set limits related to technology use that they can grow into as they age
what types of conversations help, and what hinder, a teen's relationship to his or her parents
how to manage cell phone use and group texts,
how parents can tell the difference between their own anxiety and the reality of their kid's situation
and more!
Jason Brand is a Berkeley, California based psychotherapist who specializes in providing support to families in a rapidly changing world where digital technologies are transforming our lives. His work takes place in schools and with organizations where he lead workshops about safety, trust, awareness and respect in the digital age. His book, "1 to 1 at Home: A Parent's Guide to School-Issued Laptops and Tablets," is a practical guide to integrating new technologies into family life. You can find out more about him at www.jasonbrand.com and www.connectedstar.com.
Podcast: Play in new window | Download
Subscribe: RSS