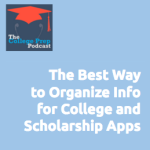 Does it take you forever to fill out college and scholarship applications? Have you forgotten the exact date that you were a CIT at camp, or that your sports team won a state championship?
When it comes to filling out college and scholarship apps, most families find that they spend a huge amount of time trying to remember all their accomplishments, and tracking down all the relevant information required on the applications.
Enter: ScholarPrep, a unique organizer designed to help students track all their activities, big and small, starting the summer after 8th grade. During today's episode, Megan and Gretchen interview the mother and daughter team that created the ScholarPrep organizer. Together, they cover topics like:
what kinds of activities and accomplishments need to be tracked as soon as a student has graduated 8th grade
a 15-minute monthly task that will increase your changes of winning scholarship money and impressing colleges
why families should not wait until junior year to start thinking about college, and what to do instead
how to use the ScholarPrep note book to create peace of mind, ensure less college debt, and make the college app process go more smoothly.
To find out more about ScholarPrep, visit www.scholarprep.org. You can also find them on Pinterest, Facebook, and Twitter.
Podcast: Play in new window | Download
Subscribe: Apple Podcasts | Android | RSS