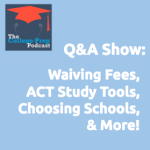 Questions! Questions! We love questions!
Here are the latest queries from College Prep Podcast listeners:
Waiving Fees. I belong to a middle class family with a tight family income. Is there any way by which my SAT fees can get waived?  ~Faridul
Overworked High School Counselors. How do you deal with a high school guidance counselor who has a giant caseload of students? […] Next year, my daughter will be a senior and we will DESPERATELY need her to help us out! I'm seriously thinking of either 1) bribing her with chocolate, gift cards, etc. or 2) asking to be transferred to a nicer counselor. Do counselor recommendations really mean anything, can her ineptitude or lack of knowledge about my daughter's extensive accomplishments hurt my daughter's college applications? ~Christie (Here is another episode of the podcast that adds additional insight about this question).
The Best ACT Study Tools. [My daughter] has decided to take the ACT over the SAT and I'm not sure what preparation you would recommend. […] Should we just use official books? Work with a tutor? Do you have a company to recommend? She likes online learning, so that would be a good option, but I don't know of any free or low-cost ACT prep resources, like Khan Academy is doing for the new SAT. Looking forward to your next Q&A podcast! Thanks ladies! ~Christie  (Here is one of Megan's blog referenced during her answer to this question).
Choosing Public High Schools. [My 8th grader] attended a parochial (Catholic) school till 8th grade but he's likely to attend our local public high school from next year. We found out recently about a program at the school that is open to incoming freshman [that] operates as a "high school within a high school" where some of the core HS classes are taught in a more interactive/self-guided/personalized way within the program, but other classes (such as AP classes and electives) will be from the regular HS curriculum. Are you familiar with any such programs and would you advise for/against it? ~George
Podcast: Play in new window | Download
Subscribe: Apple Podcasts | Android | RSS