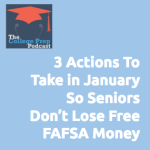 If you're a high school senior applying for college, now is the time to fill out your FAFSA form.
Although it's tempting to wait until your 2015 tax info is complete before you fill out the form, Megan breaks down why applying ASAP could win you valuable money, and why you'd be losing out if you wait until April to file. Specifically, she and Gretchen discuss:
What the FAFSA is and how to access the documents you need
The 3 actions for families to take immediately to get the FAFSA application started
Why families shouldn't wait until April
Some major changes to the FAFSA application process that effect this year's juniors
Free resources to get additional help on the FAFSA, if you need it.
Podcast: Play in new window | Download
Subscribe: Apple Podcasts | Android | RSS