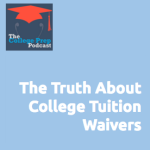 Are college tuition waivers really as good a deal as they seem?
Several  months ago on Facebook, Gretchen noticed her friends excitedly reposting an article about Stanford's new tuition waiver rules.
Here's an excerpt:
But fewer parents will have to pay tuition, which will be free for those coming from households with annual incomes below $125,000, the university said in the release. That expands on a financial aid program that had previously waived tuition costs to students from households making less than $100,000 a year.
Despite the excitement of her Facebook friends, Gretchen wondered whether this was as good a deal as it seems. During this podcast episode, Megan breaks down how to think about tuition waivers in general, and Stanford's in particular.
In the episode Megan references this financial aid calculator tool.
Podcast: Play in new window | Download
Subscribe: Apple Podcasts | Android | RSS