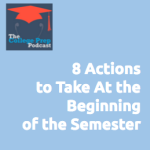 It's the start of a new semester for most students!
Here are some straightforward actions to take to make sure that you're set up to rock the semester, and stay on pace with college applications — no matter what grade you're in.
Gretchen and Megan take turns offering their favorite tips, which include:
Update college-bound resume
Clean out binders
Review grades and set new goals
Collect new tools to help you improve the bad habits you got into last semester
Assess where you are with college planning, and what the necessary next steps are
Map out your assignments and schedule for the entire semester
Double check late work policies for all new teachers
Talk to teachers. If you are in a new class, introduce yourself, and if you are a returning student, get tips about how to improve.
Podcast: Play in new window | Download
Subscribe: Apple Podcasts | Android | RSS