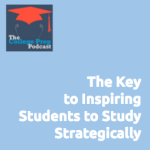 Students waste much of their study time reviewing the information in non-productive ways.
To inspire them to study strategically, Gretchen walks listeners through the 3 steps of her new model "The Study Cycle," which she is currently teaching to educators in a course called The Art of Inspiring Students to Study Strategically.
Listen in as Gretchen walks Megan through the three steps in the Study Cycle, including the following:
how to get information into your head in new and creative ways,
a big mistake students make when testing themselves that causes them to lose points even when they've spent lots of time reviewing the information,
how to ensure that you are actually learning the information correctly,
and more!
If you'd like more detailed information about how to save time and study more effectively, check this out.
Podcast: Play in new window | Download
Subscribe: RSS