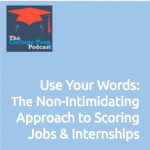 Does email-writing intimated you? It certainly seems to befuddle many of Gretchen and Megan's young adult clients. Even Gretchen's coaching trainees struggle with their confidence when writing introductory emails to potential collaborators and clients.
Guest expert Danny Rubin breaks down how to communicate in ways that will impress people and attract opportunities, including internships and jobs. He shares:
How to make a networking or job/internship email authentic and memorable
How to rely on our experiences to tell great stories in job and college applications
How to ask interview questions that will impress college faculty and employers
Why it's so important for college students too have a blog or online portfolio
Danny Rubin is a communications expert and author of the new book, Wait, How Do I Write This Email?, a collection of 100+ templates for networking, the job search and LinkedIn. Read more ofDanny's insights on his blog, News To Live By (news-to-live-by-dot-net if you're reading it aloud), which highlights the career advice "hidden" in the latest headlines. You can also follow him on Twitter at @DannyHRubin.
Podcast: Play in new window | Download
Subscribe: Apple Podcasts | Android | RSS