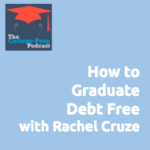 Is it really possible to graduate debt-free?
Financial Expert Rachel Cruze explains the dangers of debt in teen-friendly terms, and offers up to 40K in college scholarships to which listeners can apply. Join the us as we discuss:
some surprising facts about the lack of financial literacy that teens have when they go to college,
some devastating mistakes teens make with their money,
how to start early to find as many scholarships as possible for college,
how to choose which schools to go to so that you eliminate needless spending,
and more!
Plus, don't miss out on this FINANCIAL LITERACY CHALLENGE for High School Students:
Grand prize is a $40,000 scholarship for a senior
Go to daveramsey.com/challenge
Take a 15 question personal finance quiz and a brief money survey
Students who score 100% on the quiz will be entered to win prizes
3 Seniors will win scholarships  — $40,000, $3,500 or $1,000
3 underclassmen will win Chromebook 2 laptops
The contest runs today through April 25, 2016.
About Rachel
As a seasoned communicator and Ramsey Personality, Rachel Cruze has been speaking to groups as large as 10,000 for more than a decade. The daughter of Dave Ramsey, she joined Ramsey Solutions in 2010 and uses the knowledge and experiences from growing up in the Ramsey household to educate others on the proper way to handle their money wisely and stay out of debt. Rachel co-authored the #1 New York Times best-selling book Smart Money Smart Kids with her dad. You can follow Rachel on Twitter at @RachelCruze and online at rachelcruze.com or at facebook.com/rachelramseycruze.
Podcast: Play in new window | Download
Subscribe: Apple Podcasts | Android | RSS