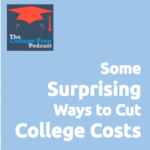 How does a kid who loves (but doesn't excel at) baseball get recruited to play on college teams? How does a student who wants to save money on college find better scholarships?
In this engaging interview with guest Expert Michelle Kretschmar, she shares her love of number crunching to help you cut college costs. 
Specifically, Michelle shares with Gretchen and Megan:
Where can you apply for the best/most scholarships
Why athletic ability isn't likely to pay for college, but how to become a sought after player anyway
How useful college rankings are, and how to use them to compile a valuable list of schools perfect for you
Why people should care about each college's graduation rates, and
What parents should do if you think think you won't qualify for financial aid.
If you'd like Michelle's help creating the perfect college list for you (one which almost guarantees you'll get offered scholarships AND get a great education), please join Michelle's upcoming online class Roadmap to Cutting College Costs. Enter the coupon code "CollegePrep75" and get a $75 discount. If the class is over, but you'd like a free introduction to college funding sources, check this out.
Michelle Kretzschmar blogs at DIY College Rankings on how to find a college with a focus on using data to make the best choices possible. After helping her son through the college search and baseball recruiting process, she created the DIY College Rankings Spreadsheet which contains information on over 1,500 colleges that families can use to identify schools best for them.
Podcast: Play in new window | Download
Subscribe: Apple Podcasts | Android | RSS