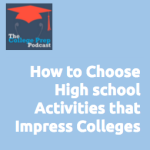 Teenagers are not the savviest of communicators when it comes to interacting with teachers.
Gretchen shares about some blunders her clients have made recently and provides suggestions about what to do instead to sustain strong relationships with your teachers and get better grades, too.
Tune in as Gretchen and Megan discuss how to:
how to construct an email that inspires a teacher to reply,
how decide when to email and when to talk to the teacher in person,
communicate when you've double-booked meetings with more than one teacher at once,
prep for tutoring sessions with your teacher so that you spend less time but get more help,
and more

To get some more step by step guidance from Megan about choosing the right activities, visit www.collegeprepresults.com.
Podcast: Play in new window | Download
Subscribe: Apple Podcasts | Android | RSS