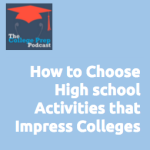 Every student wants to stand out on their college applications, but how do you choose activities that are aligned with your passions and not just trying to impress the colleges?
Megan walks listeners through six tips for choosing high school activities that look great on your college resume and also help you live a vibrant, well-rounded life that sets you up for a great career.
Tune in as Megan and Gretchen discuss how to:
find things you're passionate about, and choose activities accordingly
to save yourself from activity burnout
take action on your interests, rather than just fantasizing about what you'd like to do in the future
move beyond formal, organized activities and get creative about getting experience in your fields of interest, and
create a balanced sense of who you are and what you're capable of.
Podcast: Play in new window | Download
Subscribe: Apple Podcasts | Android | RSS