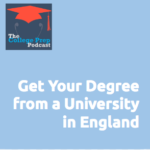 Did you know that a college degree from England may be cheaper than one from the United States?
Megan recently went to an information session where she met representatives from 5 universities in England, and she shares with us some fascinating facts that reveal why you might want to consider college abroad.
Listen in to find out more about:
how English Universities set you up to graduate in 3 years,
why transparent entry requirements create a lot of relief for families,
the type of students who will (and won't) benefit from the English university system
how English Universities can boast 80% completion rates (hint: they have improved student support services!),
how to apply to these schools,
why you might save more money studying abroad, and
5 schools you might want to consider.
Podcast: Play in new window | Download
Subscribe: Apple Podcasts | RSS