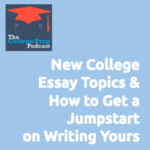 The college essay topics have been updated! University of California has posted a brand new set of college essay topics that provide a nice selection for students who have trouble thinking of what to say.
During this episode Megan walks listeners through how to get ready to write their college essays, including:
what all the new UC essay topics are, and how to interpret them
how to prepare for your essay topics so that you have lots of meaningful things to say
what to do before, and during, your junior year to prepare for the essays, and
a unique idea for organizing yourself so that you save time and money when you finally approach a coach for help.
Podcast: Play in new window | Download
Subscribe: Apple Podcasts | RSS