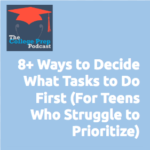 Making a good To Do list is a skill in and of itself.
But once you get good at making accurate and helpful lists, how do you actually prioritize which items to do first?
Today Gretchen and Megan discuss blind spots related to teens and time management. Specifically, Gretchen tells the story of a recent client who needed some help learning how to prioritize her to do lists.
Tune in to hear 8+ specific tips for how to decide which items on your to do list you should do at any given time.
Podcast: Play in new window | Download
Subscribe: Apple Podcasts | RSS