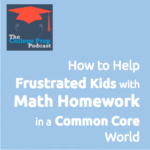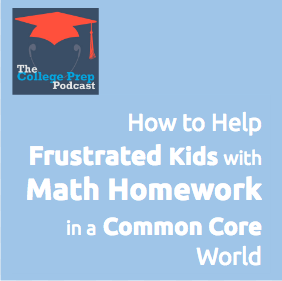 Now that the Common Core curriculum is more wide spread in the United States, kids are learning math in ways very different than their parents, tutors, and coaches originally learned it. 
This is causing some frustration around kitchen tables around the country, as adults struggle to figure out how to support their frustrated kids.
Guest Expert Gary Einhorn helps break down, as he discusses the following with Gretchen and Megan:
the original reasons behind the shift to the Common Core, and how the intentions are to help students think better

the importance of "grapple time," and how to support students in tolerating uncertainty and the frustration that comes with it,

how to use resources like Khan Academy in ways that help, and don't hinder, math instruction , and

a concrete list of tips so that anyone can help students study math.
Gary also provided a great list of resources for folks who want some additional support with math instruction. Check out this google doc.
Gary Einhorn is an educational leader and math teacher with over 20 years of experience teaching in a wide variety of schools with an emphasis on underprivileged schools in economically hard-hit communities. For two years he worked for the Maryland Department of Education coaching teachers in how best to implement the math common core standards.  Starting next year, he will be teaching math full time for a mathematics magnet school five minutes from his home in Takoma Park, Maryland.
Podcast: Play in new window | Download
Subscribe: Apple Podcasts | Android | RSS