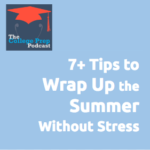 The beginning of the school year is always crazy and stressful for families.
But if you follow these tips for wrapping up the summer, you'll save yourself some stress later on.
It's an investment of time that's well worth it. 
Here's the basic checklist:
Update your resume
Get basic school supplies before stores run out
Finish the summer assignments
Make appointments to talk to people from school
Put all the dates from the school's calendar into YOUR calendar
send thank you's to anyone who helped you
Ask for recommendation letters
Attend orientation
Write goals for the year
Now listen in so that you can hear Megan and Gretchen's commentary about each one!
Podcast: Play in new window | Download
Subscribe: RSS