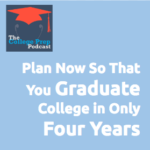 Why is it important to graduate in four years? What are some ways that you can choose your college smartly to ensure that you do graduate without spending needless extra money and time?
Guest expert Karina Dusenbury walks us through how to plan for college so well that you graduate in as little time as possible, and preferably no more than four years. 
She discusses:
what graduation rates are and how they are measured
what families should know about the graduation rates at the colleges they are considering
factors that impact students' ability to graduate in four years
tips for choosing schools so that you maximize your ability to graduate in four years
To download Karina's additional tips, go to www.maximizecollege.com/collegeprep.
Karina Dusenbury spent nearly 15 years in higher education helping students achieve their college goals. Along the way, she became all too familiar with the obstacles students encounter, which prevent them from graduating on-time and being fully prepared to enter the workplace. She founded Maximize College to help families refocus their college planning efforts so that students are more likely to get what they expect from the time and money they investment in college. Karina's professional background includes positions in academic advising, career counseling, leadership development, and college admissions. She holds a bachelor's degree in journalism from the University of Missouri, a master's degree in College Student Development from the University of Iowa, and a doctoral degree in higher education administration from North Carolina State University.
Podcast: Play in new window | Download
Subscribe: Apple Podcasts | RSS