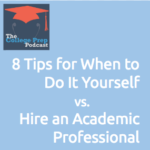 Should you hire a tutor, coach or consultant? Or should you DIY for just a little longer?
During this episode, Gretchen and Megan help you decipher when it makes sense to spend the big bucks and get professional help…and when you don't need to!
Specifically, they discuss the following 5 types of academic experts that families often like to hire, who work outside the school systems:
Tutors
Standardized test prep professionals
College application consultants
Academic life coaches
Mental health professionals
In considering when it makes sense to hire out, and when it makes sense to DIY a little longer, Megan and Gretchen discussed these 8 questions families should ask themselves to decide:
How important (e.g. life or death!) is the situation?
What resources does the school already provide, and is it enough?
Is this a topic for which there is limited time and chances in order to succeed?
Are your home relationships deteriorating because you've been doing it yourself for too long?
Will it be more convenient to work with this other person, and are you willing to pay for covenience?
How motivated is the student who will be receiving the support?
What are your family's finances?
Would you save more in the long run if you had a professional help you get started?
Got any questions or concerns on this topic, or any other? Want them addressed on our podcast (free coaching! yes!)? Please email us at collegepreppodcast [at] gmail [dot] com and tell us all about it.
Podcast: Play in new window | Download
Subscribe: RSS