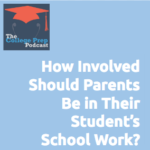 It's every parent's dilemma — how involved is TOO involved to be in your child's education?
On the one hand, you want them to be self-sufficient, and a self-motivated learner. On the other hand, you also want them to be college ready, and are scared that — left to their own devices — they won't progress fast enough to be college-ready.
Megan and Gretchen discuss elementary, middle, and high school parenting, and share a list of guidelines for how to support your student while still nurturing their self-sufficiency. Included in the conversation:
when should parents intervene with teachers and the school, and when should they let students figure it out themselves
how to support students with homework
when do you let students solve problems for themselves, and when do you solve them for them,
and more!
Gretchen also shares some wisdom from the book How to Raise an Adult: Break Free of the Overparenting Trap and Prepare Your Kid for Success  by Julie Lythcott-Haims.
Got any questions or comments about how to apply anything we said in this episode to your situation? Please email us! We love addressing your questions on the podcast (free coaching for you! yes!). Find us at collegepreppodcast [at] gmail [dot] com.
Podcast: Play in new window | Download
Subscribe: Apple Podcasts | RSS