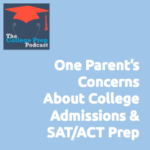 We recently got an email from a concerned parent about how to prepare her daughter for the SAT and ACT.
In a surprisingly wide ranging conversation, Megan addresses this common concern for parents, as well as some others too!
Here is the text of the email that we received:
Hi Megan and Gretchen,
I'm trying to decide on the best time for my oldest daughter to start taking test prep classes, and I'm also looking for someone to counsel her on what her options are for colleges and universities.
I would like her to start taking prep classes at the right time to help show her that studying and prep classes can help, but not burn her out or discourage her. Plus I hope to maximize the results, from what I can spend. I'm a single mom not getting child support right now.
Jennifer is a sophomore. So far, her grades are mostly B's and C's and unfortunately she already failed a French class she took in 8th grade that I tried to encourage her to drop.
On her PSAT last year she scored 480 on reading/writing and 560 on math. With the new system I'm honestly not sure if that's an ok score or not.
Ultimately she hopes to go to a four year college, and I want that experience for her too. I went to UT, and it's upsetting to her that going there or somewhere similar (like TAMU) may not be an option for her right out of high school.
I would like to learn her realistic options now and feel good about them, and I hope that planning ahead and talking about them will help. And I think it would help tremendously if she could talked to someone besides me about these plans and school options. I think that may work best to encourage her.
So in addition to getting your advice on when to start prep-classes, I was wondering if how some sort of one-on-one college prep counseling would?
Podcast: Play in new window | Download
Subscribe: Apple Podcasts | Android | RSS