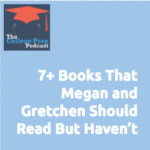 Do you ever buy books that are important professionally but never get around to reading them? Megan and Gretchen both have books on their shelves that they haven't gotten around to reading yet.
Listen in as they list these books, and explain why they're important for educators and parents to read. Maybe doing this podcast will also inspire Megan and Gretchen to actually get reading!
Here's the list:
Also, if you're an educator interested in more information about Gretchen's upcoming course The Art of Inspiring Students to Study Strategically, please check here to see if the web page has been updated, and if not, email her directly at Gretchen [at] GretchenWegner [dot] com.
Podcast: Play in new window | Download
Subscribe: Apple Podcasts | RSS