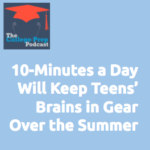 Are you worried your kid will lose their summer to video games and YouTube?
There are activities that students can do this summer — in 10 minutes a day — to help them get a jumpstart on the new school year.
Tune in as Megan and Gretchen discuss:
the importance of building specific skills over the summer
specific activities students can do to build both academic and nonacademic skills
how to make sure there's time and accountability for each of these activities
and more.
And here is a link to Megan's weekly vocabulary program were you can get one year of weekly lessons for $52 or two years with bonus materials for $98. http://www.collegeprepresults.com/vocabularyresults/
Podcast: Play in new window | Download
Subscribe: Apple Podcasts | Android | RSS