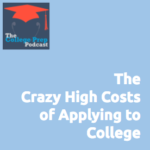 Everyone knows how much it costs to go to college, but there are some surprising hidden costs of applying to college too.
Tune in to hear Megan tally the numbers and help you budget for the college application process. She'll break down the costs in the following areas:
Standardized tests like the SAT and ACT
Test preparation coaching
AP Tests
College applications
College visits
Activities that "look good" on college applications,
and More!
She'll also break down what to do if you simply can't afford to budget $3K-$5K for the whole process; there are options!
For more information on this subject, check out this article from US News and World Report.
Podcast: Play in new window | Download
Subscribe: Apple Podcasts | RSS