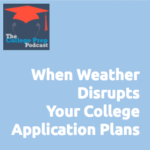 From hurricanes to snow storms, sudden massive weather can disrupt your college application plans.
Megan shares her personal experience of how the Houston area SAT, ACT and school calendars were disrupted by Hurricane Harvey.
She also provides some tips for how families can handle weather-related disruptions in the future with minimal stress, including:
Who to call when it looks like weather might cancel the SAT or ACT tests
How to maintain your readiness to take the test while you're waiting for the make up date,
Tips for planning ahead so you aren't desperate if there is a weather disruption,
And more!
Podcast: Play in new window | Download
Subscribe: Apple Podcasts | RSS