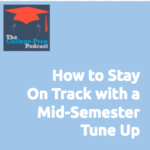 It's time for a mid-semester tune up!
Take a couple hours this Thanksgiving Break to organize yourself, clean up any broken systems, and assess your study skills.
Gretchen will teach you how, including:
How to tune up your organization systems, including what to file and what to throw away
Clean up your study space
Make sure you have enough supplies at home to get you through the rest of the semester and/or year
Assess several academic skills to make sure you're learning in effective and efficient ways including your ability to: (1) make effective study plans, (2) Hone your notes well, (3) Create quizzable study tools, and (4) re-teach yourself information that you are having trouble remembering.
If you need more support with any of this, feel free to check out Gretchen's online course The Anti-Boring Approach to Powerful Studying, which you have lifetime access to.
Podcast: Play in new window | Download
Subscribe: Apple Podcasts | Android | RSS