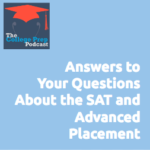 Questions! Questions! We love questions!
Below are two questions about the SAT and Advanced Placement tests that we got recently from two moms:
(1) "I just heard someone talking about their 2nd child who took a gap year and delayed taking the SAT until after high school. For kids who just aren't ready for college or who haven't progressed to Pre-Calc by their junior or senior year, is there a benefit, or even an option, of taking the tests later?"
(2) "A fellow mom and I have been having a long conversation about what colleges can and can't see from your college testing record. This includes your SAT scores, your SAT subject test scores, your AP scores. […] My question is – can you still list [a course] as an AP course, but not report your testing score (say you do great in the class, but not so great on the test or does that look like your school is weak?) Or do you only report the class as an AP course if you have a score that is worthy of reporting? Otherwise would you simply call it Honors?"
Tune in for Megan's answers!
Podcast: Play in new window | Download
Subscribe: Apple Podcasts | Android | RSS