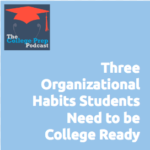 Whether you are in middle or high school, it's not too early to put several key organizational habits into place that help you be college ready.
In today's episode, Gretchen shares a funny story about a conversation with students that happened recently when she went to water aerobics at the swimming pool of a local high school.
She then unpacks that conversation to reveal three important habits for students to focus on building this year: (1) relationship building with professors, (2) knowing how to make time visible, and (3) learning tools for active studying.
If they can successfully follow through with these habits, they will be able to take better advantage of their college experience.
Tune in for more details!
Podcast: Play in new window | Download
Subscribe: Apple Podcasts | Android | RSS