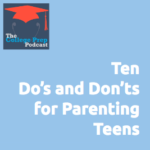 Parenting teens is hard!
Recently Gretchen asked all the coaches in her Facebook group for their advice to parents of their clients.
Here is a summary of what they said — in a convenient and memorable top 10 list. We've included the full list below.
Tune in to hear Gretchen and Megan discuss them all, as well as to find out which ones Megan disagrees with and why.
DO…
DON'T…

1.

Get Curious and ask questions

1. Lecture or feign curiosity

2. Pause. Ask consent.

2.

Ambush

3.

Analyze grades.

3. Freak yourself out by checking grades alone

4. Refer to observable data

4.

Blame, especially with "you always" or "you never"

5. Acknowledge effort and process

5.

Hyperfocus on grades as desirable outcomes

6.

Remember change takes time

6.  Expect immediate improvement

7.

Make family expectations visible

7.  Agree verbally on expectations

8. Follow through. Do what you say.

8.

Make threats you may not carry out

9. Celebrate mistakes as learning

9.

Save your kid from mistakes

10.

Have multiple ways to soothe your own anxiety

10. Wait for behavior change  to soothe anxiety
Podcast: Play in new window | Download
Subscribe: Apple Podcasts | Android | RSS