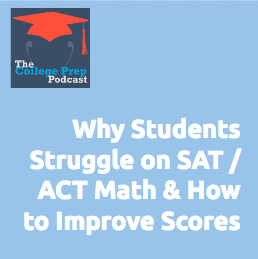 Many students complain that they are not "math people" and therefore struggle on standardized math tests.
Join Megan as she breaks down three reasons why students tend to struggle needlessly, and five strategies for improving their scores.
Specifically, she explores:
the difference between knowing your math facts and understanding concepts
the importance of grapple time and developing a tolerance for not knowing
how to be mindful about whether you're in a solution mindset or a process mindset
specific strategies for raising your score
and more!
If you'd like some specific advice from Megan related to applying these concepts in your ACT / SAT review, please email us at collegepreppodcast [at] gmail [dot] com.
Podcast: Play in new window | Download
Subscribe: Apple Podcasts | Android | RSS