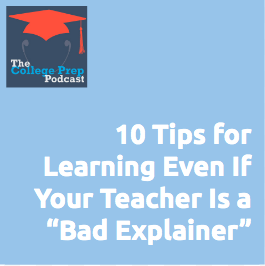 How do you get help in a class where you're convinced your teacher is a "bad explainer"?
Gretchen walks you through 10 practical tips for things to try first before giving up on getting answers from on your teacher.
The tips include how to:
Do your homework and use your resources (textbooks, class notes, classmates, other teachers, google) to supplement what the teacher is teaching
Remember that people show up differently in different settings, so just because the teacher seems to be a "bad explainer" in class doesn't mean that they won't be a "good explainer" one-on-one
Know where you are on the Study Cycle before you get help from when you go to the teacher. Do you need retrieval practice or encoding practice?
Build a personal relationship with the teacher so that you know and like each other
Make sure you're choosing the right time to go talk to the teacher so that they have time and space to explain things better
And more!
Podcast: Play in new window | Download
Subscribe: Apple Podcasts | Android | RSS