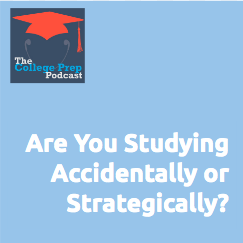 So many students study accidentally, or at the very least, incompletely. What's the alternative, that delivers better learning and better grades in less time?
Why, "studying strategically," of course! Gretchen calls her course for educators The Art of Inspiring Students to Study Strategically, but what exactly does that mean?
In this mini-episode, Gretchen breaks down the 3 components of strategic studying. Tune in to hear more!
If you want to take this idea of "strategic studying" one level deeper, please check out the free course: Study Cycle 101. It's geared for educators, but great for parents, too. Sometime in 2019 there will even be a Study Cycle 101 for students too.
Podcast: Play in new window | Download
Subscribe: Apple Podcasts | RSS