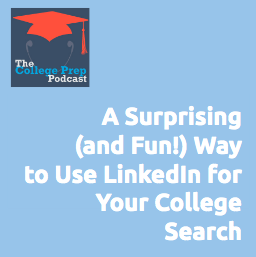 Did you know that LInkedIn is a great place to search for information about what kinds of jobs students get after graduating from which schools? Megan and Gretchen had no idea…but a parent listener Mary did.
Listen in as she shares:
How she discovered this cool trick, and how it helped her high school age son,
How to use LinkedIn to research whether colleges you're considering will really help you get the kinds of jobs you think you want, and
The power of forming real-life relationships with professionals in careers students are interested in.
We highly recommend listening to the live episode; however, if you want the quick instructions, here they are as typed up by Mary:
Starting with the College:
Go to LinkedIn and search for a college.
On the left navigation bar, click on Alumni.
That will then show you high level information about where their alumni live and the top companies where they are employed.
However, what I think is so cool is you can filter down this view. You can filter based on year (in the top bar). This will allow you to see where their recent grads are being employed. Or you can filter down by location, major, or job. To filter by major or job, you'll need to click the Next button.
Starting with the Company:
This is similar to the college search but with the emphasis on the company. Let's say that your child is very interested in a certain company. Type in the name of a specific company you're curious about in the main LinkedIn search bar.
Click on people on the left navigation.That will show you all the people who work there.
Unfortunately, you don't have the same date filtering capabilities. However, you can filter down by location, what they do, and what they studied.This can give you a good idea of the colleges that the companies heavily recruits from. I found it helpful to search based on major (because the colleges can change a lot based on major).
Podcast: Play in new window | Download
Subscribe: Apple Podcasts | RSS