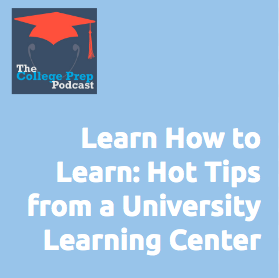 University learning centers are a lesser-known gem on college learning centers.
Guest expert Lauren Hensley from the Ohio State University explains about how their learning center helps students learn how to learn, and provides tips for parents and students about how to prep best for college. Specifically, she shares:
What kinds of supports learning centers (in general) and OSU's learning center (specifically) provides, and what types of students it serves
What can students and parents practice in high school to better prepare students to take advantage of learning centers in college,
How to incorporate research about university learning centers into making your college application list
The best time to visit a campus' learning center
Details about a Learning to Learn course that they teach at OSU
And more!
In her free resource, Lauren recommends students follow www.collegeinfogeek.com. However, Gretchen also recommends folks check out OSU's free tutorials on all kinds of topics.
Lauren Hensley discovered her passion for working in the college environment while an undergraduate at the University of Richmond. She joined the leadership team of the Dennis Learning Center at The Ohio State University after receiving her master's in Higher Education and Student Affairs. She also holds a Ph.D. in Educational Psychology from Ohio State and continues to conduct research on factors that support college student success. Lauren has received The Ohio State University Distinguished Staff Award and holds level 4 leadership certification from the National College Learning Center Association.
Podcast: Play in new window | Download
Subscribe: RSS